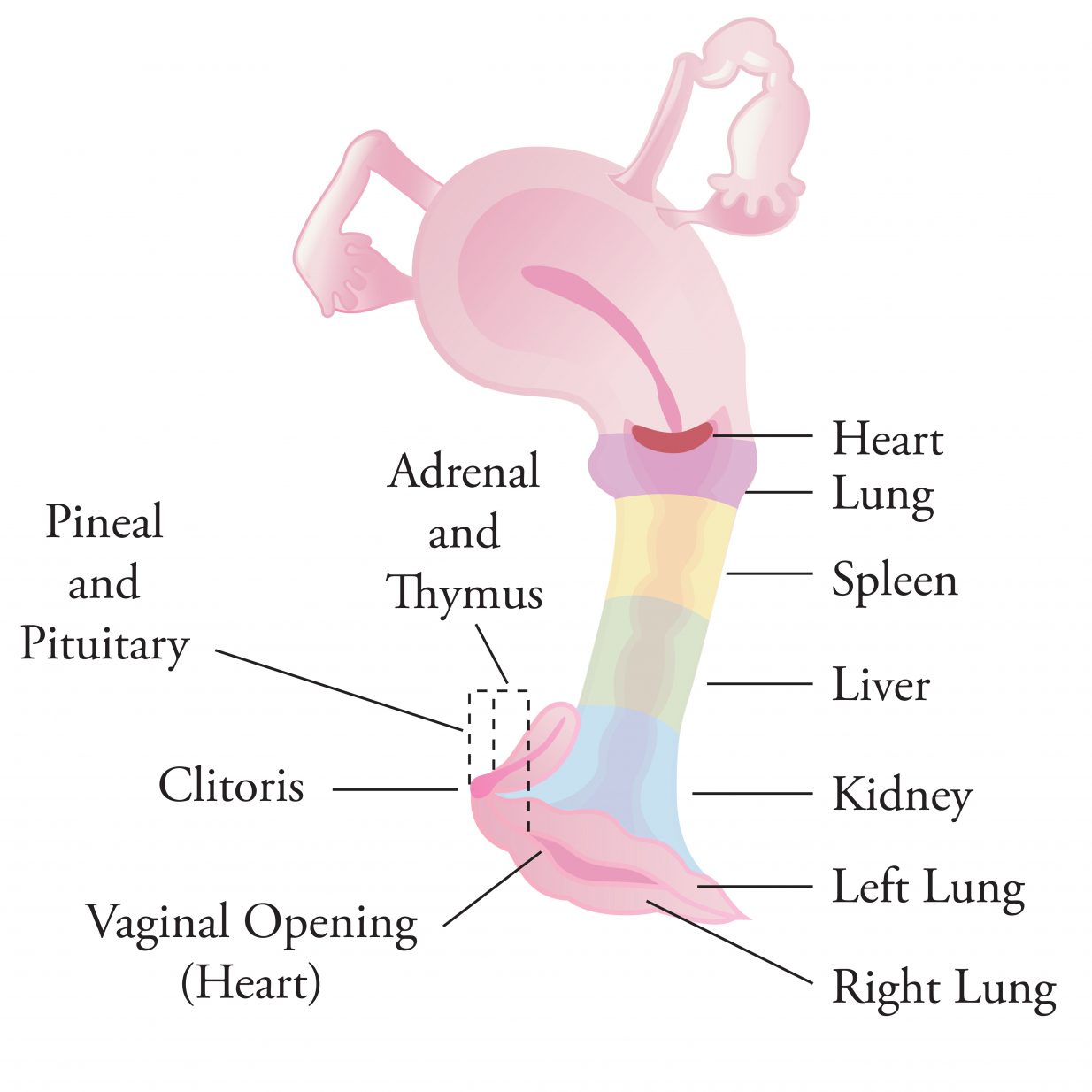 Let me begin by asking: How is your relationship with your cervix?
Why is this even important?
Because the cervix is at the core of a woman and its health will dictate her health, her fertility, her ability to give and receive love and her ability to experience deep pleasure.
In this blog I will be sharing some super truths about the cervix, including:
How the cervix ages every year we're on the pill
How the cervix is the most powerful reflexology point for our heart
And how soft massage of the cervix has the ability to open a woman up to a full body orgasm!
So let's dive in…
For those who are not so familiar with the cervix, you can find it right at the top of a woman's vaginal canal.
One of the key roles of the cervix is to secrete specific mucus's at certain times of month – including a fertile mucus to help chauffeur the sperm up to the egg during the ovulatory phase of a woman's cycle.
The vagina is a very acidic place, and without this protective mucus, the sperm dies a quick death.
Hence to say, in order for a women to remain fertile, she needs a healthy cervix.
Interestingly enough, studies have shown that every time a woman has a baby her cervix regenerates by two years.
On the flip side, every year a woman is on a contraceptive pill or other contraceptive device, her cervix degenerates by two years.
So if you've spent much of your 20s on the pill, waiting 'til your 30s to get pregnant, your cervix may resemble that of a 40 or 50-year-olds, which explains the highs stats showing one in three women over 35 are unable to conceive.
My advice?
Opt for a natural method of contraception.
My personal favourite, that I have used for five years now, is the Billings Ovulation Method, which teaches you how to track your mucus so you know when you can and can't have intercourse depending on whether you're wanting to conceive or avoid.
If you'd like to know more, take a peek at this article I wrote on this method in Nature and Health magazine.
Now if you've been on a contraceptive for a while, don't get stressed out.
Use this information to make changes to help your lady parts recover.
The cervix, like any area in the body, can be healed.
Which leads me on to discuss the healing effects of reflexology.
If you haven't heard of reflexology, the basic principle is that you press various points on either the ears or feet that send healing energy via 'meridians' to the associated organs.
What's super interesting is that the Taoists found the most powerful reflexology points are actually in our genitals!
For the purpose of this blog I will stick to the reflexology point for the cervix, but if you're interested in learning about the other reflexology points you'll find in a woman's vagina and along a man's penis, take a peek at my course Sexual Self, where I go into a lot of depth on this topic.
So the cervix is the reflexology point for the heart, which makes sense as it's the deepest part of us.
(On a man his heart reflexology point can be found at the tip of his penis, so if he goes inside a woman, these reflexology points actually marry up.)
What does this matter?
Gentle massage of the cervix not only helps heal the physical heart, keeping it in good health, it also helps open the emotional heart.
Many women guard their heart and refuse to show vulnerability, which are key parts of experiencing deep love, joy and ultimately pleasure!
Maybe you were abused, hurt emotionally, had your heart broken, and this has caused you to shut down, and build a moat around your heart, so deep that no Prince can get anywhere near your castle.
This shutting down of the emotional heart creates tension in the cervix.
For some women, just touching this area can be painful.
Wherever we store tension in the body, there is stagnant energy, and if you know much about Traditional Chinese Medicine, you'll understand that stagnant energy is the cause of illness and disease.
I experienced this myself when I returned an abnormal pap smear result and was diagnosed as being the stage before cancer.
Thankfully, through the skills I teach in my courses I was able to heal my cervix naturally, and in this video one of my client's Jessica shares her journey and how I helped her heal her cervix naturally, despite being told she needed to have her cervix removed.
Suppressed emotion, old traumas; they all get stored in the deepest part of ourself, causing physical disturbances.
So how do we use this information to heal our cervix?
You work with your heart reflexology point in your cervix, by massaging it softly.
As softly as you would touch the face of a newborn baby.
You see the cervix is as sensitive as your eyeball!
(Hence why surgery creates so many issues.)
Of course reaching your fingers all the way up into your cervix to massage it can be difficult, which is why I suggest women use a Jade Egg.
The Jade Egg works in two ways; physically massaging out the tension, while energetically absorbing any trauma stored in the tissue.
(Please note that vibrators actually desensitise the cervix, creating more tension, which you don't want.)
As the tension melts, the cervix becomes more soft and receptive.
Why do we want a soft and receptive cervix?
Firstly, because that is the state of a healthy cervix, and secondly, softness in the cervix is what creates the environment for you to experience a cervical orgasm.
Now a cervical orgasm is very different to a clitoral orgasm.
While a clitoral orgasm generally leaves as quickly as it comes, and is confined to the genital region, a cervical orgasm can last for hours!
Not only that, the vibrations of the cervical orgasm spread throughout your body so that you experience a full body orgasm!
Many women describe the cervical orgasm as the spiritual orgasm, because it leaves you feeling at one with all that is.
Personally I like to call these experiences 'heart-gasms'!
Part of this relates to the fact that there are three nerves that run from the cervix up to the brain, quite literally lighting up the brain and giving you far more access to your creativity.
There is also a meridian channel that leads from the cervix all the way up to the crown chakra – so in softening and opening this tissue in your vagina you are gaining access to your spiritual self.
Cervical pleasure really is magical: It's a super highway to creativity and feminine power and wisdom.
So what if you've had an operation where your cervix has been removed? 
Energetically, your cervix is still there, so you can still tap into its power, by simply setting an intention to do so, and by using a tool like a Jade Egg to help energise and connect with the energy of your cervix.
Ok, so now you know how to look after you cervix, take some time to play with what I have shared with you.
Your cervical health really is a vital part of your overall health.
*If you're like Jessica and need help healing from a serious cervical issue, please don't hesitate to contact me about how I might help you in your recovery.