If you're struggling with depression, anxiety or any other variety of mental health disorder, then The Upside of Down: A personal journey and toolkit for depression will give you the answers you're looking for.
The Upside of Down A personal journey and toolkit for overcoming depression was my first book, published in 2009, to help people overcome depression. I spent much of my early 20s anxious, depressed and suicidal. It was only after I was about to be admitted to a mental home, that I committed 100% to finding the cure for depression. This book, shares that journey, giving you the tools needed to once and for all, end the struggle.
Within a month of being released, The Upside of Down was endorsed by Lifeline Australia who invited me to be an advocate for the organisation, sharing my story and the toolkit I had put together, that has now helped thousands of people shed the layers of conditioning that have created the depression.
The Upside of Down was seen on Channel 10's The Circle (below) as well as featuring in dozens of magazines and newspapers, including the Body and Soul section of the Daily Telegraph, The Herald Sun, Take 5 magazine and The Independent (UK), as well as SBS Radio numerous other radio stations across Australia.
This book recognises that depression is curable and backs this up with numerous studies. If you are serious about becoming depression and pill-free, this book will give you the answers you're looking for, so you too can begin your beautiful journey out of depression. A happy, healthy life is possible for every single one of us, and I am living proof of this! I now have a ten-session program that I help people overcome depression and become pill free.
Interview on Channel 10's The Circle in 2010.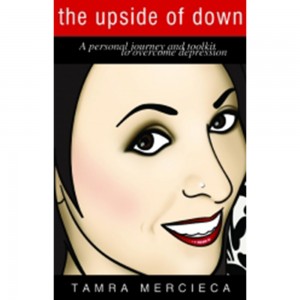 The Upside of Down is one young woman's memoir of her time with depression and how she managed to overcome this debilitating illness. During her struggle, Tamra used herself as a guinea pig, experimenting with natural therapies and concepts until she developed a toolkit that others could also use to guide them out of the pit of negativity.
This book recognises that there is no magic pill for depression and that a holistic approach is needed to permanently end the pain. It is packed with tips and ideas on how to make small lifestyle changes to rebalance your biochemistry. It is proof that people with depression can, and do, live fun and magical lives.
'This is a truly fabulous book with a compelling style. It goes beyond Tamra's experience with depression, providing proven strategies to turn your life around. The best part is that it's elegantly written and jargon free making it easy to digest'
– Jane Lomax-Smith, SA Mental Health Minister.
Get your eBook copy of The Upside of Down here…
$19.99Add to cart
Or buy the hardcopy book of The Upside of Down here and receive the eBook free…
$24.99Add to cart
What others thought about The Upside of Down?
The Upside of Down is a fantastic book to read for anyone who has ever suffered …
by Colin Forbes on August 19 2016 posted on Amazon.
'The Upside of Down is a fantastic book to read for anyone who has ever suffered from mental illness, anxiety and depression. Tamra is extremely honest and vulnerable throughout the whole book. She goes into great detail about her personal experience with depression, and importantly gives hope to people who are going through this debilitating illness. I admire enormously Tamra's courage in writing this book, as it is a very personal journey she has been on and openly shared with thousands of other people.
The Upside of Down is a wonderfully uplifting read, but above all gives readers tons of practical tips and suggestions on how to overcome depression and rid oneself of this horrible illness that is rife in society today. Thank you Tamra for this outstanding book. I have personally benefited from it and I am sure it will help anyone who reads it and wants to overcome depression.'
Written in English not science.
by Kerrin on February 12 2014 posted on Amazon.
'I feel Tamra really hit the nail on the head with her description of depression to the self, a romantic partner and the family. I am dealing with every aspect she describes on an extreme level.
I have tried all the tips and tricks, pills & potions mention in this book & more (even a trip to Thailand to meet an ancient medicine doctor) but during my 20 something years of having this excruciating mind disease I haven't dealt with or heard of subconscious mind therapy.
I've been searching for the miracle cure and wondering why nothing worked let alone provided relief or hope, now I know getting to the root cause with this therapy may be the answer. I will spend every last penny I have if it means not having to live like this anymore. Like Tamra says: You are no good to yourself, friends, family, work and are barely surviving each day with this illness and that's not living.'
Recommend this sensitively and thoughtfully-written book to people who are going through depression.
by Martha Tara Lee on August 16 2016 posted on Amazon.
'I received Tamra Mercieca's two books – The Upside of Down, and Getting Naked – having interviewed her for my radio show Eros Evolution. During the show, I was struck by her honesty and vulnerability in sharing how she overcame depression and suicide tendencies to live a full life now.
I literally began reading and could not put down her first book The Upside of Down: A Personal Journey and Toolkit to Overcome Depression, until I finished it. Having had depression at least twice in my life myself, I was not just interested to hear the details of Mercieca's story, but also in picking up tips to better support my future clients who might have depression (while I always recommend that they work with other specialized helping professionals, I feel I also need to have some basic knowledge).
Published in 2009, the book opens by making clear that it intends to provide general information with great care taken to ensure the accuracy, but is not a substitute for medical or psychiatric evaluation or treatment. In fact, this was sensitively repeated in appropriate places in different places in the book – to seek professional help if needed. I appreciated how Mercieca never lost sight of her reader – and her genuine concern and warm tone carries through this book. The book is divided into four main segments: Introduction (her story); Mind (psychological aspects of depression); Body (physical aspects); Soul (emotional stuff); and Moving Forward.
Besides her own story, Mercieca interweaved stories of other people who battled depression, and what helped them. This helped to flesh out what worked for those, and might help the reader. Other than the chapters containing her own story, every chapter after was just a few pages – with practical exercises contained. These quick easy-to-read chapters are designed to be used for fast remedies or as quick references. Then there were also the mind-body-soul checklists at the end of each segment that sums up everything covered.
There were facts, figures and information which I didn't know, and I recognize the amount of research and effort that has gone into this. I recommend this sensitively and thoughtfully-written book to people who are going through depression. It was written by somebody who has been there, emerged from the dark side, and genuinely wants to support others.'
Appraisal
emailed through from an Australian reader in October 2018.
'Fifteen years I ignored my depression. Refused anti-depressants, played with psychologists minds, made counsellors focus on themselves rather than me. On my worst days I planned how I would commit suicide. On my good days I continuously refused to connect with the world. I acted like I was on top of the world in the daylight but fell into my own sorrow in the darker hours. I've lashed out angrily at the ones I love the most pushing them away so they don't have to watch me suffer in the whirlwind of my mind.
I become lonely, irritable and was starting to become an incompetent mother, friend, family member and person. I met a man I fell so madly in love with and tried so hard to connect with him but the black dog continually bit me daily with catastrophising thoughts resulting in me hurting the man I truly love with my everything (a love I had never felt before). I self sabotaged the healthiest, happiest relationship I had ever been in but at the time I didn't understand that.
Somehow fate had aligned me with falling in love with a man who understood my behaviours better than anyone I had ever met. At first when he handed me "The Upside of Down", I buried the book in my work pile and handed it back to him when I pushed him away yet again. As I was spiralling out of control with my self sabotaging, somehow he didn't give up on me and after reconnecting again, I asked if I could read "The Upside of Down". Luckily he had 150 copies (yep 150) and he was able to spare me one.
From the moment I read the first page, I was entranced. The next few days I read the book during every spare moment I got. I was mesmerised and astounded at the accuracy of each account of depression, each characteristic of depression; exactly what I had dealt with on a daily basis I was reading before my eyes. I was overwhelmed with emotions of relief. Relieved I wasn't some alien living trapped in the whirlwind of my mind as I realised I wasn't the only one tackling the black dog. Most of all, I was relieved there are natural drug-free remedies and practises out there to tackle the wild beast.
As much as I thank the man for introducing "The Upside of Down" into my life, I thank you Tamra Mercieca for your raw honesty throughout your amazing book. And for tackling such a taboo characteristic of life in such an informative realistic brilliant way. Without "The Upside of Down", I would never of realised the severity and hinderance of my own depression towards my everyday life. Thank you and I wish you all the very best with your life and future endeavours.
Always, K xox'
Get your copy of the of The Upside of Down here…
$19.99Add to cart
Or buy the hardcopy book of The Upside of Down here and receive the eBook free…
$24.99Add to cart
If you're struggling with depression or anxiety, begin applying the techniques in this book and if you need further help please contact me. I have a ten-session program that has helped hundred of people become depression and pill free. For more information click here…