Description
If you'd like to go deeper into your relationship with self, then the Jade Egg practice will help you build that inner connection while also delivering you many sexual health and pleasure benefits. Having a sentient and active vagina will:
Reconnect you with your vagina
Help you lubricate naturally
Build pelvic floor strength (great for post-birth recovery)
Create a natural facelift
Eradicate incontinence
Increase libido
Help prime the vagina for multiple and full body orgasms …. plus soooooooo much more!
Our Jade Eggs are made from certified Nephrite Jade. Colour will vary as is the nature of jade, but Nephrite Jade is dark green. All eggs are drilled horizontally at the small end of the egg for the unwaxed dental floss* to be tied. The medium egg we share is 4.4 x 3.1cm in size.
*Unwaxed dental can be difficult to source, so we suggest you purchase it with you Jade Egg. Our dental floss is POH Classic 490 in 100 yard (91.44metres) packs.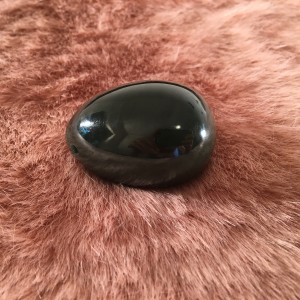 A little more about Nephrite Jade….
Nephrite Jade is the highest quality Jade and therefore considered the best choice because it is so dense, has hard and strong mineral structure, and is naturally shiny. It is also heavier than most stones because of its tightly packed structure and a much darker in colour. In Taoism, Nephrite Jade was the original jade used by women in the Royal Palace. In Chinese culture, Nephrite Jade was considered the 'stone of heaven'.
Nephrite Jade is the ultimate fertility stone that promotes tranquility, longevity and balances your emotional and energetic health. Physically, it is used in the crystal healing of the physical heart and kidney problems. It promotes the body's self-healing capabilities, and according to research by Dr. B.H. Yoo, radiates far-infrared rays, which is beneficial to the skin, blood circulation and skin cell vitalising.
How do I use my Jade Egg?
Our Jade Eggs come complete with the link to an online Beginner's Instruction guide. That said, learning how to use the Jade Egg really is an 'art' and this is why I have created a comprehensive Yoga for the Vagina online series, which takes you deep into the Jade Egg practice with guided audios and sequences to help you heal yourself from the inside out. To learn more visit: www.yogaforthevagina.com
You can add the Yoga for the Vagina course to your cart by clicking here.
Please note: We are unable to accept Jade Egg returns under any circumstances, due to their intimate nature.
Please note also: All Jade Eggs and dental floss are shipped from Victoria, Australia. If you wish to purchase a book (The Upside of Down or Getting Naked) at the same time as purchasing your egg, you will need to do two seperate orders, as we cannot do combined shipping. Thanks for understanding.