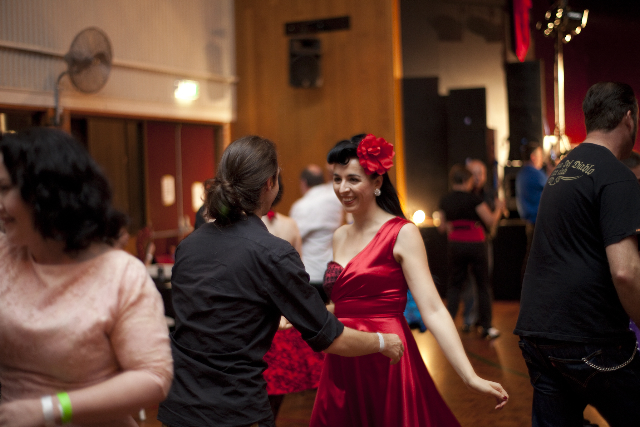 Swing dancing is making a comeback and it's not just the infectious rhythm and foot-stomping moves drawing in the crowds. 
I decided to take a few classes to find out why swing fever is so infectious.
Swing dancing may not be new – just ask your grandparents for tips on a "jockey" or "throwout" – but it certainly is now.
People everywhere are bringing this old groove back into style, with aerials from the old days working their way onto the social dance floor.
Newcomers to swing won't be throwing their partners in the air at their first class though.
The flashy moves, while attainable through plenty of practice, don't come straight away. And while you dance with a partner, you don't have to bring one, with people rotating their way around the circle of dancers; sort of like speed dating to great music!
Swing dancing is a great way to socialise.
It's all about friendship and swing dancers tend to be a close knit group, enthusiastically welcoming newcomers to the sport.
Dancing classes can be a great way to meet new people as you learn the moves in a friendly and supportive environment.
A lively evening of swing dancing can get your heart rate up to aerobic levels and that means great benefits for your heart. 
And because it's so much fun, dancing is great for relieving stress.
When you throw yourself into the swing moves, you can almost feel the stress melt away.
If you're tired of using the treadmill as your weight loss tool, swing dancing offers a unique alternative to crowded gyms, burning around 260 calories per hour.
When you consider that swing dancers often dance for several hours, this can result in some serious weight loss.
Plus, you get to ditch your boring gym gear and dress up in flirty dresses and cute skirts as you spin around the room.