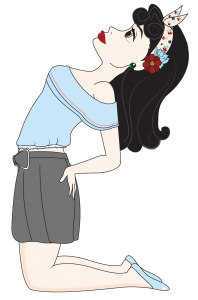 Your final gift of the Self-Love Starter's Kit is a Self-Love Yoga Mini! And the best bit is, you only need 12-minutes to sneak it into your day. Are you ready to experience 12-minutes of yummy, heart-opening postures designed to connect you with your gorgeous body in a really gentle, kind way? Then this Yoga Mini is for you my darling!
Please read through the Self-Love Yoga Mini Manual first to familiarise yourself with the postures. I go into a fair bit of explanation on how to do each postures, so please don't get too caught up in the detail. Look at the cute images, get a feel for the postures, then try doing the practice alongside the Guided Audio. You can always come back and refine your postures later. 
You will also see in the Manual that there are options for each posture, so that you can suit the pose to your body. Know that in yoga, we are not looking for a specific 'shape'. The perfect shape is one that feels good in your body. If something doesn't feel right, gently come out of it, adjust it accordingly, or ask me for some extra guidance in the comments section below, so I can help you find a posture that works in your body. Know this: How you feel in a shape is what matters. Not how the shape looks!!
Self-Love Yoga Mini Manual PDF – Download
Once you've had a peek at the Manual you're ready to practise! Turn your phone off, let your housemates/family know you'll be occupied for the next 12-minutes, lay out a yoga mat or a rug (a carpeted floor will do), pop on something comfy, and turn on the Guided Audio below! Let's do yoga together. A full 12-minutes of it!
*Please know that in Heaven On Earth Posture you will be guided to do what is called Breath of Fire. If you're not familiar with this yogic breathing technique, simply do long slow deep breathing. 
Self-Love Yoga Mini Guided Audio – Download
How often should you practise? Well, firstly there are no 'shoulds'. You don't want your self-loving practices to feel like a chore, otherwise they're not very self-loving. So let go of telling yourself you 'should' do this, and see if you can invite this practice into your life because you want to do it. Because you want to experience more love. If you feel like this practice is simply an opportunity to connect with the love within, you'll feel more inspired to do it.
So with that said, my recommendation is to aim to practise it every day for a week and see how you feel. It's only 12-minutes!! And I say every day for a week, so you have a chance to start to feel its effects. Then, if it feels good for you, see if you can do it daily for a month. Small, regular actions create massive long-term change. 
Not only are you practicing yoga when you do this Yoga Mini, you're starting to re-wire your brain! Yes, this Yoga Mini has been infused with loving words that will help loosen your childhood conditioning, so you can deepen your love for yourself, with specific postures that help open your heart, and direct energy up your spine so that you can experience more love in your body, and in your life as a whole. 
So please, have a go, and share how you find the practice below in the comments. And if you LOVE this Self-Love Yoga Mini and want more, I include 18 yoga minis in the Yoga for the Vagina Online Series, to accompany the full practices that use the Jade Egg. Because hey, there are days when we struggle to fit in a full one-hour yoga practice, but that doesn't mean we can't give ourselves a smaller dose of yoga love.